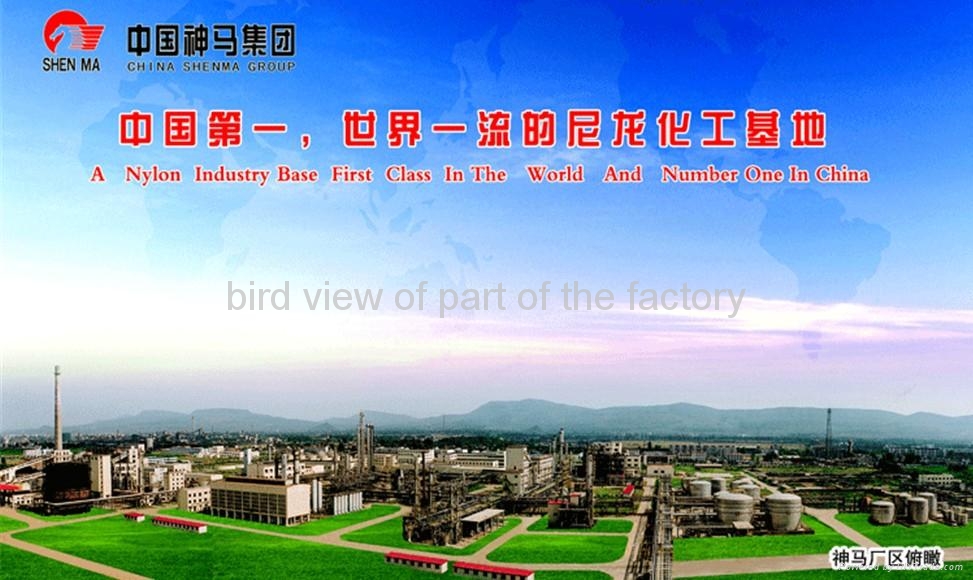 Bird view of part of our factory
As China's first modern manufacturer of for nylon 66 dipping cord fabrics, China ShenMa Group Co., Ltd was established in 1981 as a 100% state-owned national enterprise, and the whole set of production line and related techniques were imported from Japan and Germany at that time. After years of development, SHENMA GROUP has grown into a CHINA-TOP-50 modern enterprise of 17 subsidiary holding or joint stock companies, with 17000 working staff. Its subsidiary holding company:SHENMA INDUSTRY CO, LTD. has become the listed company in Shanghai Stock Exchange.
SHENMA GROUP's leading products and annual capacity are as below:
1:nylon 66 tyre cord fabric and industrial yarn 75,000 tons; production scale: No.1 worldwide.
2:nylon 66 salt 100,000 tons; production scale: No.1 in Asia and No.4 worldwide.
3:engineering plastics 50,000 tons; production scale: No.1in China and No. 4 worldwide.
4:rubber tyre 800,00 sets,
5:caustic soda 100,000 tons and resin 50,000 tons.
And its spinning, dye printing cloth and some other products also have certain scale.
The production scale for nylon 66 cord fabric's is No.1 worldwide, nylon 66 salt No.1 in Asia and No. 4 worldwide, and nylon 66 industry plastics No. 1 in China and No. 4 worldwide.
From the time of putting the flat chafer fabric into production in 1981 to the end of 2004, Shenma Group has totally achieved their sales revenue of 3.88 billion USD, the export revenue of 58 million USD. Its production scale also developed from the original 51 million USD to the present 1.02 billion USD.
China Shenma Group has successively been appraised as the state's first level enterprise, obtaining the national "May First" Labor's Prize, the National Scientific Progress Prize, the National Advanced Collectivity for Finance and Accounting, the National Excellent Prize for Enterprise Management----"Gold Horse Prize" and the National High-quality Product Prize and other honor titles, totally about 50 items. It is also the first enterprise in the field of cord fabric thoughout China that firstly passed through the state's CCIB and the ISO9002 attested by the international BVQI authentification system